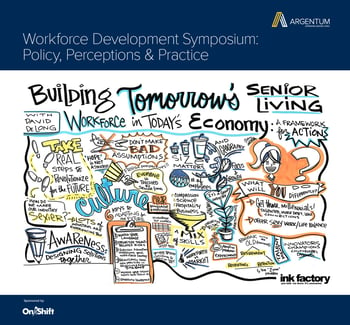 While the senior living industry faces challenges in growing, training and retaining a caring, professional workforce, its status as a recession-proof, growth industry makes it attractive to millennials and will help create solutions, according to an expert in leading and managing organizational change.
Dr. David DeLong, a research fellow at MIT AgeLab and president of Smart Workforce Strategies, spoke at Argentum's Workforce Development Symposium, an event sponsored by OnShift at the National Press Club in Washington, DC in October.
DeLong noted that there are many industries struggling to find qualified workers such as in trucking, health care, logistics and public utilities, and that most industries are facing the macro economic trends of an aging demographic coupled with more technically complex work. However, DeLong noted that senior living can be presented as an attractive career option for millennials who may see the industry as a way to fulfill a need for mission-driven work.
According to DeLong, senior living executives can take significant steps to enhance their company's workforce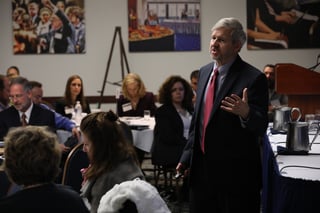 strategy, including:
Watch your language by defining talent management for the entire organization. A firm's human resources department often defines terms like human capital and strategic workforce planning differently than other branches of an organization.
Prioritize talent-related risks by identifying which staff are most critical to sustaining future performance and understanding that not all high-potential employees are created equally.
Question assumptions underlying your workforce strategy by seeking to experience fresh perspectives on talent problems, similar to how an artist may turn a canvas upside down to view the artwork (or situation) differently.
Relentlessly experiment with new tactics for recruiting, developing and retaining talent by understanding technical versus adaptive problems. Technical problems are those that are solvable by applying available knowledge such as standard operating procedures. Adaptive problems require experimentation with an unknown end result.
Improve your team's talent management IQ by asking managers if they believe developing and retaining staff is central to their job, evaluate your leadership team and ask yourself what are you doing to improve laggards and nonperformers by, for example, having honest conversations with staff about careers.
Confront cultural barriers to development and retention by identifying cultural practices that enhance workforce strategies. For example, identify where espoused employee-friendly practices and norms in your organization clash with what actually happens. Find ways to challenge existing assumptions and beliefs about staffing and leadership that may have shaped the company's earlier success.
Learn More About Senior Living Workforce Trends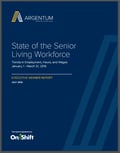 According to Argentum's recent Executive Member Report: State of the Senior Living Workforce, also sponsored by OnShift, the senior living industry remains a consistent top performer, demonstrating its fiscal health and making it an attractive career path for employees. This report shares trends in data to help companies determine how they compare within the senior living industry, as well as to medical establishments, retail, restaurant and lodging sectors. The report is available to Argentum members at no cost and to nonmembers for $29.
---