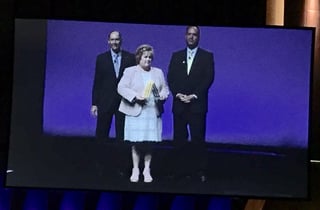 I spent the better part of the first week of May in Nashville for the Argentum Senior Living Executive Conference. Having left a cold, rainy Cleveland, Ohio, I was hoping for some warm air and sunshine in the south. To my surprise, Music City rolled out temperatures that were nearly cold enough to rename the city Nashchill. But none of that mattered as I was greeted by the warm and inviting environment at Music City Convention Center - where ideas and best practices were shared by executives every step of the way.
This conference was a special event for OnShift! We are so proud to have the opportunity to participate as Argentum's corporate partner for workforce development. We had countless conversations with providers and others about challenges and successes in the senior living workforce. And, it was exciting to meet with so many of our clients during the event, many of whom won awards for their incredible work and initiatives that are making a difference in senior living. I'd like to congratulate all of the award winners and give a special shout-out to our clients:
Changemaker
Ed Kenny, Chairman & CEO, Life Care Services (LCS)
Senior Living Leaders Under 40:
Tommy Comer, Vice President of Human Resources, Commonwealth Senior Living
Amy Fouts, Regional Director of Operations, Capri Communities
Radhika Singh, Executive Director, Belmont Village Sunnyvale
Matthew Turner, Managing Partner, MorningStar Senior Living
Hero Awards
Tonia Gonzales, Life Engagement Manager, Autumn Leaves of Cypresswood, a LaSalle Group community in Spring, Texas
Best of the Best
Quality Improvement
Senior Lifestyle Corp.
Essence
Workforce Development
Senior Living Communities
Explore
Workforce Issues Front and Center
The challenges and issues regarding the senior living workforce were perhaps the most-talked-about throughout the event. Many executives shared their experiences and stories for how their organizations are managing through these issues and how they are staying ahead. A commitment to providing quality care and service for residents can't be carried out without an adequate workforce. So how do we address this top-priority issue? Here are three important practices that were shared and discussed during the conference.
1. Employee Engagement: The Little Things Matter
While long-term employee engagement initiatives are important, quick wins can go a long way. New chairs in the break room, staff lunches, a new printer and other small gestures show staff that you care about their daily work experience. The return on your investment--engaged employees who provide better care and service--will be well worth it.
2. Senior Living Needs a Fresh Look
I remember hearing someone say, "We aren't just 'old folks homes," but unfortunately that's what many see when they think of senior living. In fact, Argentum reports that only 11% of baby boomers and 14% of the Generation X population said they would consider a career in the industry2. We need to work together to improve the image of senior living and to make it a viable career option. And we must consider millennials, the largest segment of the workforce. After all, the same survey revealed that 22% of this group would consider a career in senior living. There was significant discussion about crafting brands and aligning them with things that millennials value, like making the world a better place, teamwork and work-life balance. Don't underestimate the value of social media in sharing the values, mission and brand of the senior living workplace. It's where millennials go first.
3. Make Employees a Priority
One attendee said it best: "We need to get the right people to provide the best care." Senior living is committed to the resident experience, and this commitment needs to extend to the employee. Workforce strategies must receive the same priority and focus as other strategic initiatives. After all, a consistent and engaged workforce leads to better care, outcomes and performance.
Moving Senior Living Forward
The 3-day conference reminded me why I love this industry and the work that we do for our nation's seniors. I returned to Cleveland at the end of the week refreshed and ready to continue tackling senior living's workforce challenges--equipped with the valuable information and sentimental stories that were contributed. As your partners in the industry, OnShift will dig into this data and develop best practices to help your organization grow into the future.
1 VP Human Resources at Senior Living Communities Nerissa Nelson accepts a Best of the Best award for Explore, their workforce development program for middle and high school students.
2 Public Perceptions of Careers in Senior Living. Argentum, 2016.
---