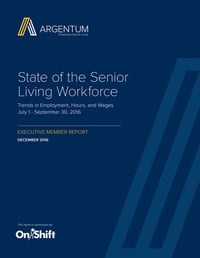 Job growth in senior living continues to accelerate, adding a net 5,100 jobs in the 3rd quarter of 2016, according to Argentum's most recent report, "State of the Senior Living Workforce," sponsored by OnShift. The report analyzes Bureau of Labor Statistics data collected during the third quarter of 2016 and focuses on trends in employment, hours, and wages during that time. It also provides senior living operators a comparison between the performance of the senior living workforce and several other sectors.
Significant Findings
Between the 3rd quarters of 2015 and 2016:
Assisted living communities added jobs at a 2.5 percent rate
CCRCs added jobs at a 1.3 percent rate
Home health care continues to rise in growth among related industries, increasing at a 4.6 percent rate
Skilled nursing gains remained flat, posting only a .3 percent rate of growth
Overall, the senior living industry added jobs at a 1.9 percent rate between the third quarters of 2015 and 2016, matching the gain in total private sector jobs during the last four quarters.
The report also shares a list of the top occupations in the senior living industry, based on the number of jobs reported in 2014. Occupations in healthcare top the list with over 150,000 jobs from nursing assistants to home health aides to registered nurses. The next largest percentage of jobs is found in the food service sector, with servers, cooks, waiters and waitresses, and food preparation workers leading the group. Jobs in management, business and financial operations, building and grounds maintenance are also found among the list of top occupations.
Argentum and OnShift partnered because we recognize the value of senior living employees, as well as the need for a critical focus on developing the industry's workforce. We will continue to provide the latest workforce news and research, helping senior living providers develop, engage, retain, and attract senior living employees.
A digital download of "State of the Senior Living Workforce" is free for Argentum members; nonmembers can download the report for a fee.
---